Local number: (229) 985-9090 Technology Solutions for Business
WELCOME MESSAGE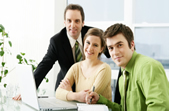 Our specialty is helping businesses succeed.

Technology needs of a business are different than the needs of an individual. Since 1984, we have focused on those particular needs by only handling commercial accounts. Computers, networking, software are not merely entertainment, but the behind the scene infrastructure that is critical to keep a company running smoothly. You have enough things to worry about with running your business - let us handle the technology.


MAIN SERVICES

Outsourced Information Technology support
Custom-built PCs and Servers
Name brand networking, peripherals and specialty hardware
Custom software development
Technical support onsite and via Internet remote control
Hardware repair service and maintenance
Consulting services



SECURITY MATTERS
Is your network secure?
We have experience in the medical field, where confidentiality is the law. Standard DSL equipment does not come with the level of protection a business needs. Let us evaluate your network to see if your data is safe.



Problem with spyware, adware?
Unwanted programs and pop-up ads can slow down your productivity. Even worse, a virus can completely wipe out critical data. Many online spyware and virus programs are actually spyware themselves. We have the tools to clean your PC and keep it protected.
prevent spam